Hello there, our guest designer Galina Fillipenko sent us this idea from Poland to make a super easy Cat Collar using our Yellow Mango Harris Tweed.
She thought that our Yellow Mango matches with the eyes of "Sr. Oliver" ( her beloved cat) and we couldn't agree more!!
Sr. Oliver is gorgeous. We are delighted to have him as the star of the day.
Meet Galina FilipPenko
"Galina is a very creative and skilled crafter form Ukraine, living in Poland and sharing papercraft and sewing tutorials on her Youtube Channel here "
---
We love the here tutorial below to make the Tilda Sweetheart Doll and we hope someday little Tilda can get fancy with a Harris Tweed coat.
She will look terrific!!
Making a Harris Tweed Cat Collar
By Galina Fillipenko
Hello there, Galina here. I love sewing as much as I love cardmaking. Most of all I love to create Tilda dolls, small accessories, or reenactment clothes for me and my husband. 
My cat is called Oliver and I made him a cute collar with a small bow.
It's his first collar ever so I decided to make something with a decorative element that can be wearable not only on the front of his neck but also at the back.
I got the fabric from We Love Harris Tweed shop HERE, they sell small Harris Tweed pieces and bundles in a perfect size for sewing crafters like me.  
It was a nice surprise to get the original Harris Tweed® Orb labels with all the cloth.
I'm going to sew a few more pet collars for my friends and it will be nice to add the tag and label to show the authenticity of the fabric.
Harris Tweed Cat Collar Ste by Step
I started by tracing the pattern on the 30×25 cm piece of Yellow Mango Harris Tweed.
To do this, I measured my cat's neck and drew the marks on the fabric.
Next, I drew the bow and cut out all the details with a 1/4″ seam allowance.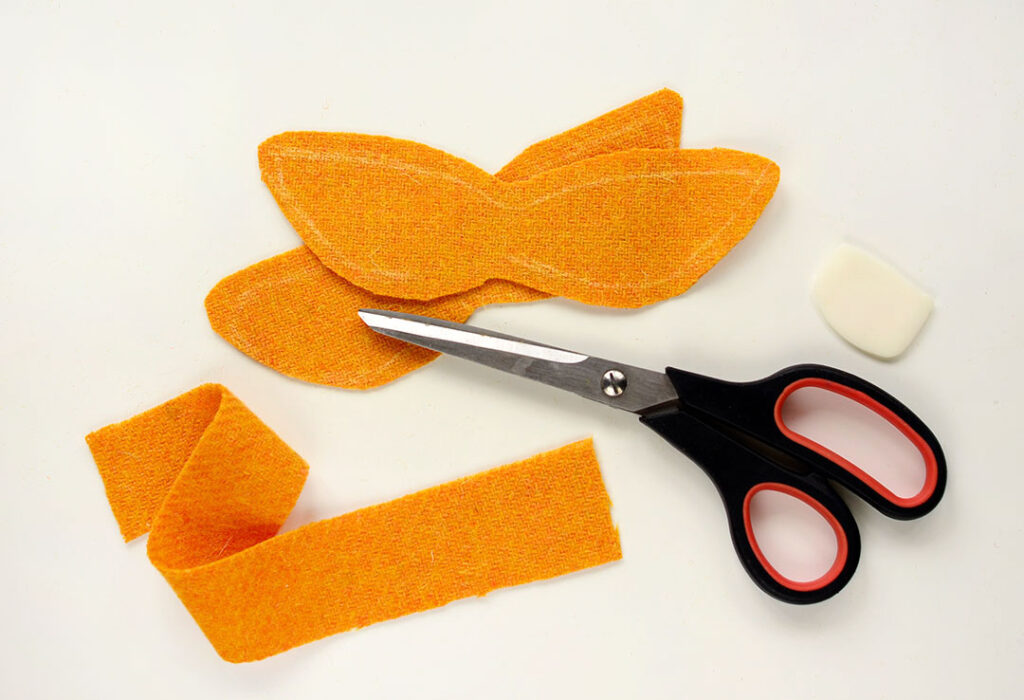 I sew the pieces for the bow together and I folded the rectangle in half to then sew along the edge.
To turn out the pieces using a wood stick and large metal tweezers.
Using an iron in medium heat I ironed the cloth before top stitching.
To finish, I attached the bow to the collar and embellished it with a small metal pendant. 
After that, I sewed by hand a small Harris Tweed label at the back ….
Done!
Just look at this cutie! Oliver's cheeks became even fluffier!!
Soon I'll share other projects with this beautiful cloth.
I'm obsessed! 
Thanks so much for stopping by.
Galina